I figured I would take a break from my laborious blogging adventures (which currently have me as a burgeoning sportscards/memorabilia dealer) to follow up on another story of mine which started a little more than a year ago.
To save you from reading the whole thing, (for this blog purpose) I want to bring your attention to the custom LA Kings electric (Schecter) guitar I got the first year they honored the Season Seat Holder Fan of the Game back in 2008.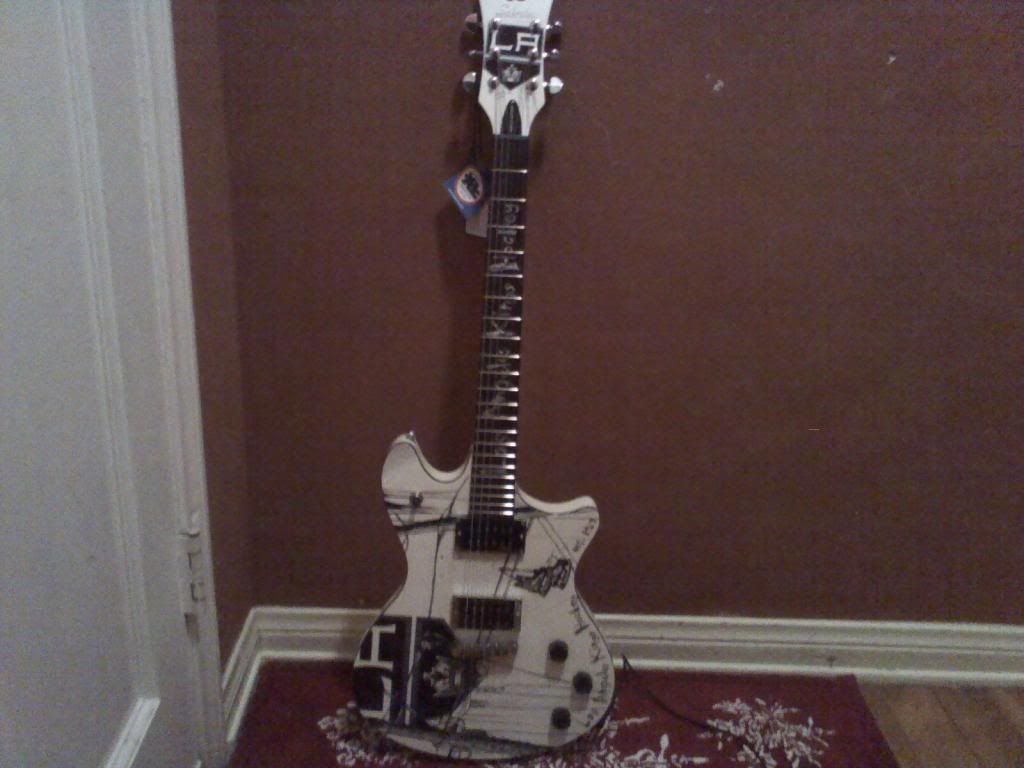 Turns out I have a pretty rare guitar even for the Kings cognoscenti. The first year was the only year they did this style- and (I think) they did not honor a Kings fan at every home game that year. I've only seen one other of these guitars at Kings functions since.
I finally figured out what to do with it in that blog (took me 4+ years).
That is to get that guitar signed by the 24 Kings players whose name is on that Stanley Cup.
As I've told several people...... Wayne Gretzky may not sign that guitar. Luc Robitaille may not sign that guitar. There can be only 24 sigs on that axe!
We had the lockout of course after the Kings won the Cup, and that has made my task of getting those 24 autos quite a bit tougher. Normally, the Kings have two events for the fans each year
Meet the Kings (MTK)- only for season seat holders
Tip a King (TAK)- a charity event open to everyone, but you pay to get in and to get autos.
Well, Tip a King was cancelled for the 2012-13 season. That left only Meet the Kings (which was a subject of that previously linked blog). That was done before the regular season started in January.
I had to think through how I was going to utilize my time at that 2013 MTK event. While the entire roster was back (which was a huge break in and of itself), I knew they wouldn't be at the start of the next season (which is the current one).
Players were in groups of 3-4. Instead of going for the stars, I went for the groups where there was a high likelihood players would not be back.
Kings had 4 UFA's after the season- Rob Scuderi, Dustin Penner, Brad Richardson, and Simon Gagne. Then there were several players that could be on the trading block or waiver wire- Kevin Westgarth, Davis Drewiske, Alex Martinez, Colin Fraser, Jonathan Bernier, Kyle Clifford, Trevor Lewis (the latter three primarily b/c of their RFA status at season's end).
Still, nobody is safe on the Kings simply b/c GM Dean Lombardi will not sign anyone with a no-trade clause.
On 1/13/13 (MTK), I procured seven sigs on that guitar.
Mike Richards
Willie Mitchell (who, later on, was discovered out the whole year and looked like his career was over)
Kyle Clifford
Alex Martinez
Jonathan Bernier
Dustin Penner
Simon Gagne
I think it was a wise strategy even before we look at it in retrospect. Three of the seven are now gone. Gagne is not even playing this year. He might hang them up for good. Then it becomes really hard to track people down because the clubs can't work with you (although I'm finding out they generally don't anyway).
Where we stood after that.......
However, while it was a wise strategy, it's not perfect. Kevin Westgarth was traded the very next day! Drewiske was traded before the end of the season. Richardson and Scuderi signed with Vancouver and Pittsburgh respectively.
Needless to say, my anxiety at completing this task grew substantially when the Kings really messed up the MTK event this season at the LA Zoo. I ended up getting ZERO signatures for my 4.5 hr investment of my time.
Now, I had bought an advance ticket to the TAK event this year in my season seat renewal. Not only that, I figured I would blow $300 (instead of the usual $75 for general admission) on a VIP ticket.
I had no idea what that meant. Plus, the event had not been scheduled at the time I bought it. It's quite possible I would be out of town on a work assignment (just like the cup clinching game!).
You know, you need to strike when the iron is hot; but I had been unable to do so. The Kings eventually will
have significant roster turnover. Try tracking these players down if they are not in your city.
Worse yet, some players might be out of the game for good via retirement. Worse yet, they could go the route of Pavol Demitra, making the task literally impossible to complete. (Remind me to follow up on the Demitra angle when I return back to blogging series.)
The Kings finally did announce the time and date for the TAK event in early January. Saturday February 1. It was at 4:00-7:30 PM on Saturday, giving the players only an hour (at best) to shower after their game with the Flyers and come over to LA Live the event.
At least I could make this event; but the Kings have been struggling since December 23. Would the roster even hold together or would they trade some of the players? Then there was the issue of really hoping that the Kings would beat Philadelphia so that the event would be enjoyable for the players.
I remember a few years back when they got pounded at home by Calgary the evening before. Murray pushed them hard at practice the next morning. You could tell by the flat interaction with the fans it was not enjoyable for them.
Now, it may not be anyway; but at least put on a good act!
Well, I put the axe in the car and met someone at the game for the Flyers. Now that you can forward tickets, it made things MUCH easier logistically. I had to stop in Long Beach on Saturday morning before the game between 10 and noon. Tricky.
Alas, the Kings lost the game as ex-King Wayne Simmonds scored the GWG in a 2-0 loss. So much for a Kings win and an assuredly happy squad (to relieve them of their losing ways).
I said adieu to my buddy and headed to the car at about 3:10ish to pick up my guitar. TAK was at an outdoor venue. Even in LA that can get dicey in February, but it turns out that the top of the parking garage it was at was now a permanent event tent, a HUGE permanent event tent.
I realized I had left my trenchcoat in the car, then my event lanyard! I had to go back. By the time I got to the event it was about 4:10ish. We were put in a line at the ground floor of the parking structure. At 4:22 we were allowed in, or so I thought.
Remember, this event was supposed to start at 4PM. The general public is allowed in at 6PM and when that happens, all bets are off on being able to get signatures because it is a cattle call.
So, we are finally let upstairs to the top level of the garage and.................. we are greeted by a huge line of people outside of the event tent. More people trying to get in. There must have been 300 at least in the line waiting to be processed at the entry table where you get your "goodies". Goodies?
Well, it turns out we were handed a list of players and their cost to sign and get a photo. Fortunately, they were only $5 or $10 apiece. Even the stars were only $10- Sutter, Brown, Quick, Kopitar, and Doughty. Everybody else was $5. We also got 2 "Express" Passes (EPs) which allowed us to go to the front of the line. My wheels began to turn on that one.
Good news was that it appeared nobody else was in the tent yet- at least with the players. I'm standing there with my electric guitar and now I'm getting concerned. $300 for this??!! Look, I waste my time, that's one thing. I waste my money and my time...... that's something else.
You know, the Kings Care Foundation (the benefitting foundation) gave ONE MILLION DOLLARS to Children's Hospital of Los Angeles a week earlier. This was after they gave ANOTHER MILLION DOLLARS to four total charities in LA to start the season.
The Kings were awarded the Best Community Franchise of all professional North American Teams (five sports) the second year it was given (I think); so I kept telling myself that my $$$ would be going to a worthy charity.
I really didn't hope I would need these consolations as I stepped inside the tent which you can see here.
Turns out there was a VIP area where we could get free food and drink, but I had more pressing issues on my mind. GET THOSE THIRTEEN SIGS on that guitar because it could be last call for them lest they get traded before the next event!
First stop was to buy my Kings Cash for the sigs. I figured it would cost $85. I plunked down my $85 with one of the shapely Kings Crew members (the most popular ice crew in the NHL BTW, in part thanks to the Great Race) and started scouting the terrain and figuring out where to go and what to do.
All of the Kings had an activity that a kid could do with them (or even some adults), some of the activities were key ring picture, water race, stop the shooter, spin the charity wheel, a day at the horse races, putting green, and many more.
I began to scope it out carefully and saw that at the far end of the tent (NW area, I came in from the SE), there were a lot of non-stars who were not getting much attention. Off I go with my axe!
King and Nolan were right next to each other (like when they were called up) with little traffic. I developed a common spiel/approach to all of the players I would interract with.
1. Greeting them.
2. Telling about the guitar, emphasizing that only 24 signatures were allowed (Luc and Wayne could not sign).
3. Thanking them.
4. Take picture (by someone else from the Kings)
5. Telling something I liked about them.
6. My confidence in the Kings and their role with them.
When I was Kings' line (first one) I realized I had no camera! I had to use my phone- which is not a modern phone. No flash, not hi-def.
Well, you run with what you have and hope for the best.
EVERY PLAYER I was able to interact with was genuinely impressed with the tale of the guitar and was happy to sign it.
BTW, when I walked by Richards, who had signed the previous year (and was another $10 player), I flashed the guitar and said "do you remember signing this last year?" He quickly said, "Yes I do!"
Two down, eleven to go.
Well, Stoll, Fraser and Williams were further down and had ZERO traffic. Everybody was lining up for the stars, but I had my strategy pegged from the get-go. Don't hit the stars yet, Ark.
Three more were completed in a matter of another 10 minutes.
Five down, eight to go.
Now things started getting tricky. More VIP's were showing and they were migrating toward the stars and the front of the tent. At some point, I would have attack the lengthy lines, but I was doing a good job of making up for lost time from MTK.
I went back to the front of area of the tent. Brown and Sutter were on the SW wall. Throngs were already beginning to show up. Quick was in the center..... forget it. There were three others in the center, Richards (I had), Kopitar and Doughty. Kopitar and Doughty were also already crowded.
However, Mitchell, Lewis, and Voynov were rather on the SW wall. I already had Mitchell, so I was able to procure Lewis in five minutes, and then Voynov in another seven. I wished Voynov well in the upcoming Olympics. I don't think he'd heard that from many that were there. He was appreciative.
Seven down, six to go..... but those six.......
Greene was alone by himself in the NE corner, I felt I could pick him up anytime.
Doughty, Quick, and Kopitar were in the center (but they separated by walls and you couldn't see more than two of them at once visually)
Carter was on the North wall
Brown as aforementioned was on the SW.
Five tough ones, and the crowd was getting bigger....... plus, the general admission people had not been allowed to come in yet.
I looked up after finishing with Voynov...... and behold Doughty's line only had about 10 people in it. I rushed over there. I couple of people used their Express Passes, but not me, not yet...... I still had time. Doughty took about 20 minutes, but I had gotten a very hard signature (I know these things from previous MTK events) pretty quickly.
Then, the turning point of the evening........
I walked around to the other side of the wall where Kopitar was......... and there were THREE people in line. Only three...... unbelievable (or maybe God at work?)!
It turned out that there were five ahead of me because two others used their Express Passes.
I also wished Kopitar well and mentioned that I knew his dad would be coaching him and asked if his brother had been named to the club. He said no to the latter, but again appreciated it.
Now, I could see the end game, possibly. But the general admission was now in the building.
Use the Express Passes on Quick and Brown...... take my chances with Carter...... and wrap-up with Greene.
When I cut across the center for Quick, there were over 100 people in line and it was swelling. Yup, burn one of the EPs here.
Good thing. It still took me about 10 minutes; but that was literally the ticket.
Across the way Brown and Sutter were getting deluged. There 200+ people in Brown's line. I got through there in about 10 minutes with the other EP.
I can see why Dustin is the Captain. He has such a maturity and graciousness about him when dealing with everyone. I told him that I was proud that he is our Captain.
So, I made my way over the to Carter. That took about half an hour, maybe 20 people ahead of me. Big deal.
I wandered about another 50 feet over to Greene where there was one person in line.
I've always liked Greener, and I understand why Lombardi wanted him in the Kings dressing room. (One of the best deals ever for the Kings was Vishnovsky for Greene and Stoll.)
When I told him that he was completing my guitar mission for the evening, he took a look at the sigs on the guitar and appreciated them.
Well, it turned out that I somehow had another $5 in Kings Cash. I thought about having Sutter sign it..... but I reflected........ nope, this is about ONLY the players and ONLY those 24. I walked to Martinez who had signed the previous year.
He remembered me and the guitar. I got a pic with me and the guitar as further provenance.
It turns out that somehow all of the phone pics turned out.
For a history of the sigs and some provenances...... click here.
I enjoyed my VIP food, having earned it; and then shuffled out the door with this song in my head as the event closed down.
So now, here is the back of that guitar.
Four left
Richardson- Vancouver
Scuderi- Pittsburgh
Westgarth- Calgary
Drewiske- Montreal
I'm hoping for Drewiske when he comes to SoCal this weekend, but alas, I was out of town myself for much of the last month. Stay tuned and I might be taking that axe on the road to their current teams' events.
Up next....... Dean and I, Part 8.......