Ah, time for more tales of The Guitar. Many of you know what I'm talking about. Yes, yours truly got this as being Season Seat Holder Fan of the Game back on 11/29/08 when the Kings beat the Chicago Blackhawks 5-2.


This was the first year the Kings did this, and I don't believe they did before every home game that year. (Also, note this was when neither team was very good in that game!)


Furthermore, Schecter changes the guitar style each year. I have a first year issue, and it's scarce. I estimate no more than 20 were made.


Here it is to (as Johnny Cochrane would say) "refresh your memory".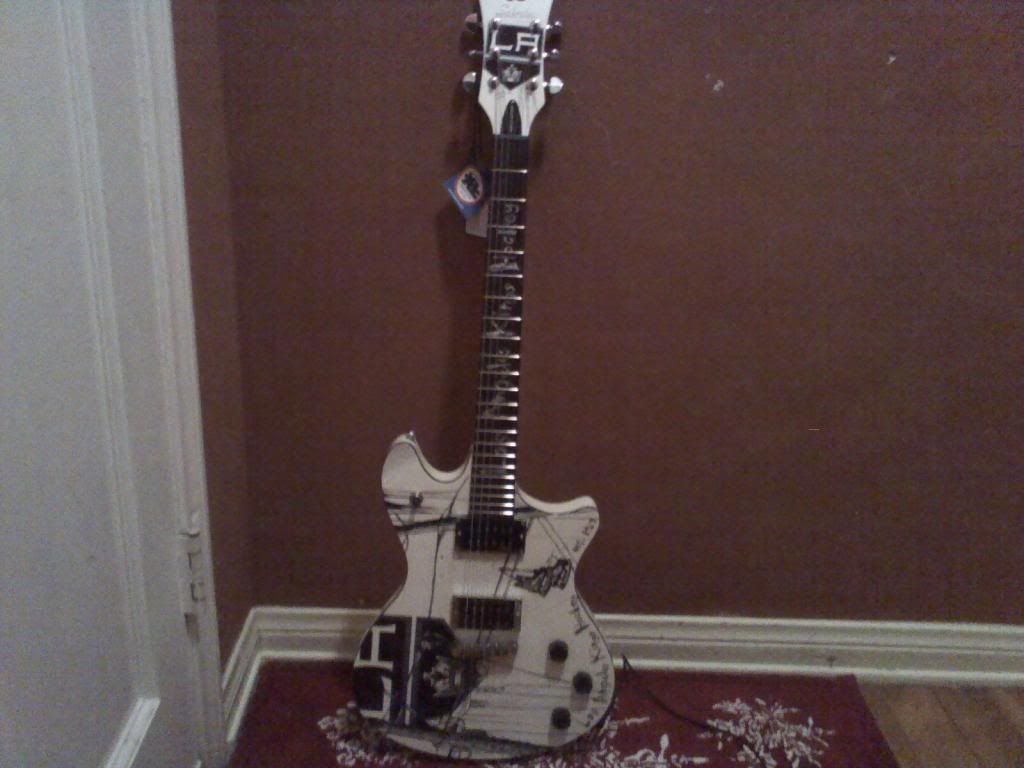 I was trying to figure out for years what to do with the guitar (I used to play a bit, but that didn't seem right). When the Kings won the Cup in 2012, I knew what I had to do.


Get the signatures of each team member whose name is on that 2012 Cup. Nobody else but those 24 can sign this guitar.


Through dint of hard work and some luck, I got 20 of the 24 signatures. In 2013 for Meet the Kings, I had to figure out who might not be with the club long. I got two very hard signatures now out of that group; Simon Gagne #12 and Dustin Penner #25. I also got Jonathan Bernier #45, Willie Mitchell #33, and Mike Richards #10- who are not with the Kings right now.


(Link) I wrote another blog last year about picking up another 13 sigs at Tip a King 2014.


20 down, 4 to go............


Now, the heavy lifting really starts.
Rob Scuderi #7
Brad Richardson #15
Kevin Westgarth #19
Davis Drewiske #44
remain.
Westy is out of hockey entirely right now. Drewiske is in the AHL. Richardson however is with Vancouver and Scuderi is back in Pittsburgh.
So, Ark, what is the plan? How do I procure those signatures?


I was pretty much left with the mercies or writing the clubs or (I have a buddy in the sports collectibles business that spent time in the NHL training rooms) who told me to write the scouting directors.
That didn't get very far though. It's like trying to standout in a crowd.


But...........
There is an ace in the hole....... namely my tickets.


Over the years, I have developed a group of fairly loyal ticket buyers (and some who sit in my section) who tell me "I will buy your tickets when they are available". You see, I am on the glass in the corner where the Kings shoot 2 out of 3 periods.


One of them is a personal trainer for NHL players.
So, as I say, "It's time to bring the SS in on this one." No, not the Nazis; SS, my name for him.


You see, Pittsburgh played in Anaheim for their yearly visit on the 6th, and then the 7th at LA. They then play SJS on the 9th.


He supposedly has access in ways that I don't.


Now, we will see if that is true.


After several phone calls, emails, and text messaging, I was basically left with a bunch of near misses. I was not going to go to a hotel or a practice just hoping I could get Scuderi's attention.
SS told me that Rob knew about the guitar. However, there is the complication of back-to-back games, Sidney Crosby with the team (which means much tighter security than most NHL clubs when travelling), and recuperation.
Why would Scuderi want to take time out of his schedule for this?
I got in from Texas on Friday night when the Pens played the Ducks. The Pens won which was good for a number of reasons
1. It's the Ducks
2. Better mood for the Pens.

3. However, it also likely meant no morning skate on Saturday.
Sure enough it was optional. I got word Mr. Scuderi was not present.


I hadn't been to a Kings game in almost two months until I went to the Pens game on March 7- last night.


I brought my guitar just in case the SS told me to be ready to act fast.


Several emails, a personal meeting with SS later, I was told it wouldn't happen after the game.


However, he told me, "Ark, Rob knows about the guitar. We'll make it happen."
He also spoke to Sid and got some more info on the club's schedule.


Their win against the Kings meant there would be no morning skate on Sunday either. Time was running short. I had been available for most of the previous two days, but couldn't make it happen. SS wisely decided to not call me about being able to be downtown in 45 minutes on Saturday afternoon b/c I couldn't have made it- people working on the house was why.



So..... what now?
Sunday morning. The Pens are flying to San Jose Sunday at some point for their Monday game.


I put my phone on vibrate and hold it during the entire church service. SS and I swap about half a dozen texts.


Finally, a last ditch plan after a phone call following the service.


I will be at the airport terminal where the club will leave from (Imperial Terminal at LAX, a private terminal) at the time the team bus will arrive. I can then try to get Mr. Scuderi then. SS tells me what kind of bus it will be.


So, I get to the terminal half an hour early, and start looking around. I am prepared if security comes to me with my story (and the texts to prove it).


However, something else is going. Several athletes I recognize start coming up in their cars and going into the terminal. Not the Kings........ not the Penguins.


THE DUCKS!


Then the Ducks team equipment truck comes in.


I guess the Ducks are flying out at the same time. Boudreau...... Getzlaf.......... others....... who cares. I am not here for them.


As the time approaches, I get my guitar out and stand at the terminal entrance, quietly like a sentry.


Then, I see the exact bus as SS has described!



Then, I see the bus go through a security gate about 100 yards in front directly onto the tarmac where the charter jets are.




Ugh.........


I wait around for a couple of minutes trying to process this. Then I wander into the terminal (since it's a private terminal there is no TSA, but private security, a bit different).


However, as I start to wander in, Rob Scuderi comes out.
I had not seen him, but he obviously had seen me.


Having never met (actually we did meet at a Meet the Kings function when he signed stuff for my kids), he looks me straight in the eye and says (conversation is probably paraphrased going forward)......


RS: Hello, I understand you have something for me to sign. (he extends his hand for a handshake)


Ark: (shaking hands) Yes sir I do. Have you seen one of these before? (showing the guitar)
RS: No, I don't think I have.


Ark: Well, I got this for being a season seat holder of the game the first year the Kings did this. I was trying to figure out what to do with it, and when you guys won LA's first cup in 2012, I decided to get the 24 signatures of the players whose name is on that first 2012 Cup.
RS: So, you got this for a being a season seat holder?


Ark: Yes, but this is the first year, there are very few of this style of guitars. Only one given out a game in the regular season; and I don't think they did it for every game in the first year.
RS: (looking at the guitar) Anybody sign on the front?
Ark: No, (I flip it over) all are on the back. Here's the space for you.
(pause)
Ark: Sidney Crosby may not sign this guitar. But you can because you have earned the right to do it.


RS: (smiles) Good!


(Hand him a permanent marker, had two with me, made sure they both work!)


Ark: You were #7 with us.


RS: Yes (I think he knew that, but he humored me. No way he would sign his Pens #4.)
 (as he is signing)
Ark: That was a good game last night even though my team lost.


RS: Yes it was.

(he finishes)
Ark: I would like to take a picture of you with the guitar. Is that OK?
RS: Sure (looks at the guitar)


Ark: (shaking hands) Thank you again. And may our two teams meet in the Finals.


RS: (smiling) OK. And good luck getting those remaining 3 signatures.
I am sorry you had to wait so long for me to sign this.

Ark: It was worth the wait, believe me. Thank you. Safe travels.



Done!
Oh, one other thing. As I immediately finish and turn toward the car, Corey Perry is walking into the terminal. He is staring at the guitar as I walk by smiling. I walk right on by him. After all, I was not here for Corey, or Ryan, or Sid!


Here is the signature...... note the #7!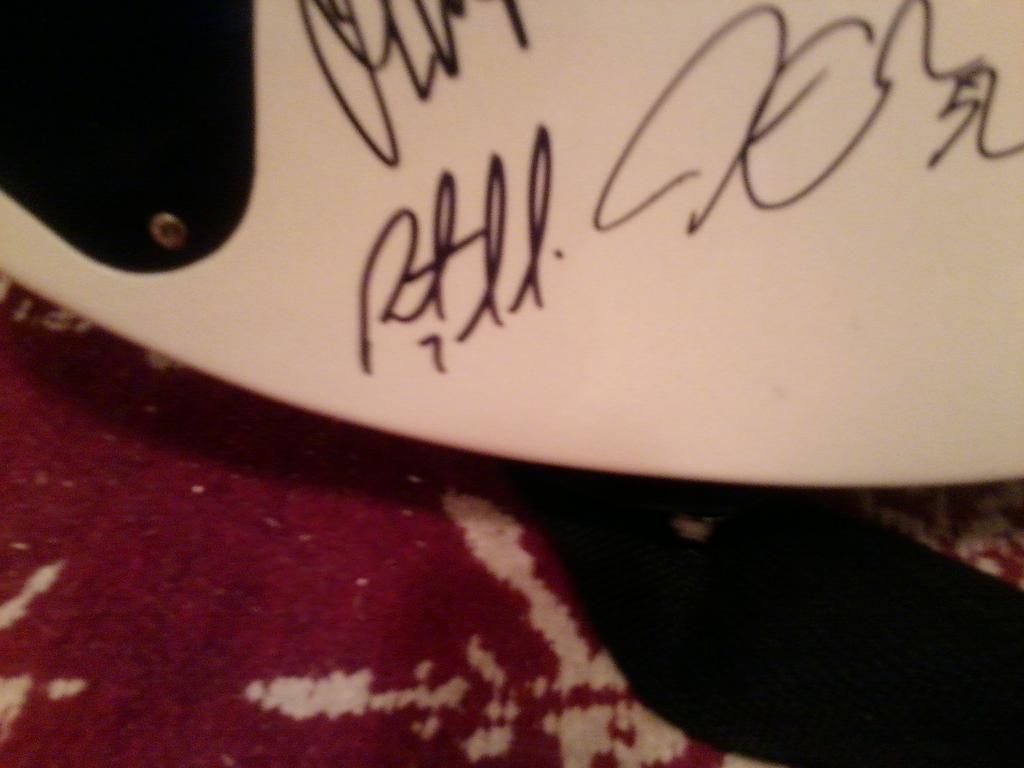 So, the full title of this blog should be


Reason #7 why the NHL outrocks everything else!


The players are friendlier with the fans, they are engaging, they are gracious.



I told the news to SS and thanked him deeply. He delivered the goods!


Oh, how do you know the signature is real??????


How's this for provenance?!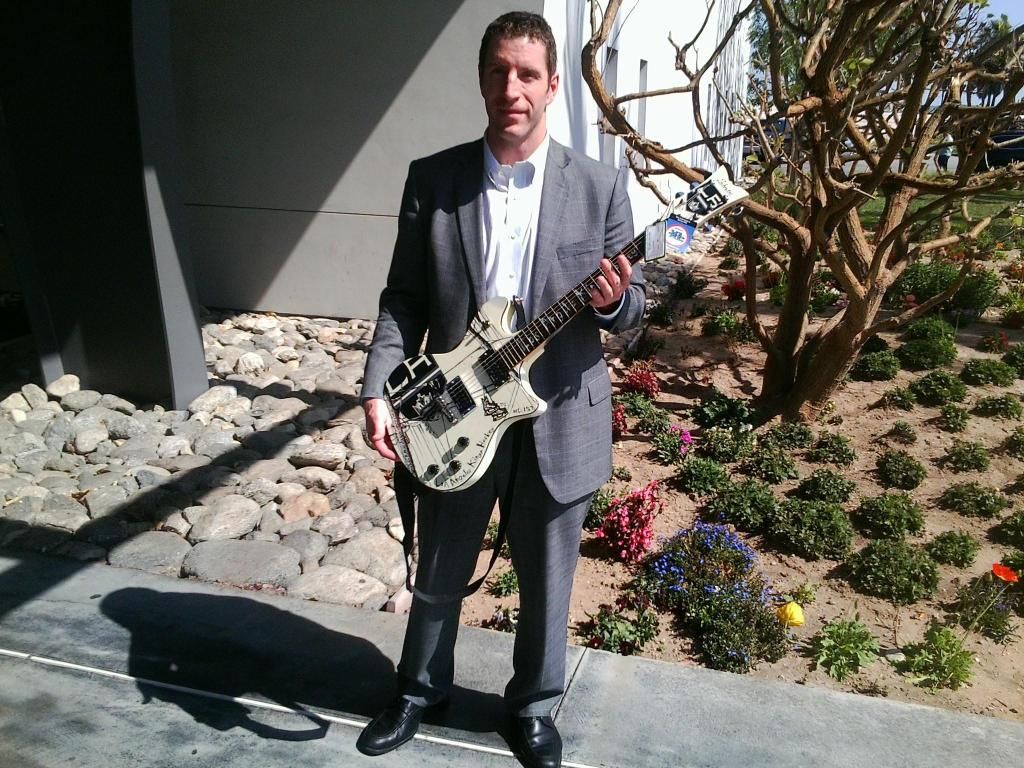 Thank you Rob Scuderi!!!!