So..... there are times in life when you are tested to see how bad you want something.
How hungry are you, Ark?
Well, if you are hungry enough, you will stop at nothing to "get your man" so to speak.
In my case, it's 24 men.
Dustin Brown, Captain
Jonathan Bernier
Jeff Carter
Kyle Clifford
Drew Doughty
Davis Drewiske
Colin Fraser
Simon Gagne
Matthew Greene
Dwight King
Anze Kopitar
Trevor Lewis
Alec Martinez
Willie Mitchell
Jordan Nolan
Dustin Penner
Jonathan Quick
Michael Richards
Brad Richardson
Robert Scuderi
Jarret Stoll
Slava Voynov
Kevin Westgarth
Justin Williams
Starting in the 2008-09 season, the L.A. Kings started their tradition of honoring a "Season Seat Member of the Game".
You got
1. $150 food voucher at the best restaurant at Staples Center
2. Two tickets to the game (in addition to yours)
3. Recognition up on the scoreboard with a meeting with Bailey, the Kings mascot
4. A personalized Kings sweater (home or road) signed by a King of your choice. (I chose #00, and had Kings HOF announcer Bob Miller sign.)
5. A custom made Los Angeles Kings electric guitar by Schecter guitars in Hollywood.
I would like to draw your attention to #5 in particular.
On 11/29/08, the Kings smoked the Chicago Blackhawks 5-2, and I was Season Seat Member of the Game.
If memory serves correctly, they did not do this for every game in the first season.
Now, each year, Schecter changes the guitar style for the honor. Meaning, in the first year, there are even fewer than 41 of these guitars out there. Furthermore, it's the rookie year of such!
So, what does my bad boy look like?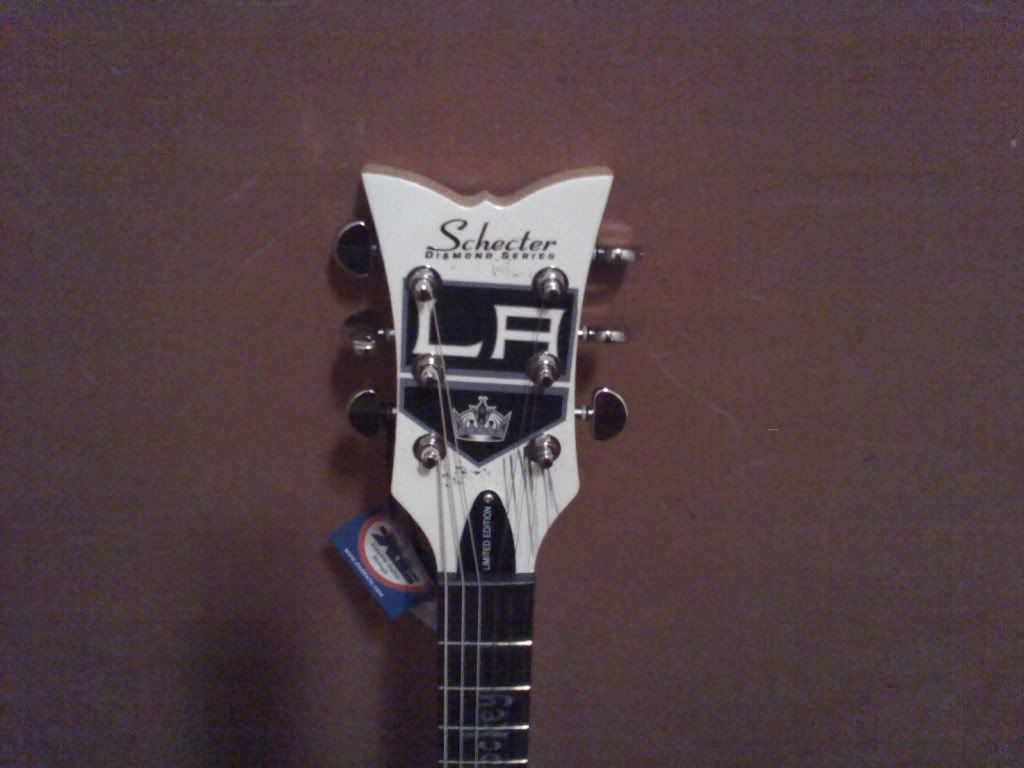 It plays fine. When I was growing up in the 60's, my parents allowed me to get guitar lessons. There came a point where I had to decide- a. rock and roll star (ha!) or b. regular student/boy
Alas, b won out. For me, it was probably the right decision. One thing I've learned about these rock and rollers over the years is this- They really don't care if they make it or not, but they will never stop trying, regardless of whether or not they live a comfortable life!
Now, when I got the guitar, I was wondering what I was going to do with it. It seemed "too special" to play. Every 6 months or so, I would get it out and strum some C's or E-7's; but it was more or less mothballed.
Then on June 11, 2012 something happened.
The Kings won the Stanley Cup after a 45 year drought.......... and I knew immediately what I needed to do with that guitar. It was like a calling, like a sentinel who had been standing at attention for years, saying nothing, but awaiting its purpose- and then pursuing it once the time had come.
Yea, the purpose of my guitar?
Get the signatures of the 24 Kings players whose names are on the Stanley Cup. When I say get the signatures, I mean personally present the guitar to them and tell the story. If possible, collect provenance in a photo.
Wayne Gretzky may not sign this guitar.
Gordie Howe may not sign this guitar.
Bobby Orr may not sign this guitar.
Luc Robitaille may not sign this guitar.
But Colin Fraser can, as can the other names up in that picture. Only 24 may sign. No more.
So, I set about the quest of getting those 24 player sigs with a personal meeting.
Things got complicated though after the 2012 season b/c we had the lockout. There were normally two Kings player-fans events each year, Meet the Kings (only for season seat members) and Tip A King. Tip a King was cancelled that year.
On top of that, Season Seats sales swelled after the Championship season. On top of that, the roster does not stay intact from season to season. Players leave...... or retire- either here or abroad......... or die (fortunately, for a number of reasons, that has not happened yet in this case).
In short, this is a task.
When I went to the fan events, I had to really plan out my strategy. However, for one event, the turnout was so massive, I got NO signatures for my 3.5 hrs of time.
But, I am on a quest, a mission, to collect signatures. I will get my man, regardless of what it takes. Are you hungry, Ark? How hungry?
Going into this season, I have 21 of the 24 signatures (the ones lined out above). As you can see, I have the sigs on the back of the guitar, so the front remains pristine.
(20 of 24 sigs)
I have some interesting stories about how some of these sigs were collected, but those are for another blog.
Now, I am here to tell you about #22, Brad Richardson.
#15, F Brad Richardson, came to the Kings after the 2008 season as they traded their 2nd round draft pick (from Detroit) to Colorado for him. This was one of Dean Lombardi's earlier moves as GM. During his tenure with the Kings, Mr. Richardson was basically a 4th liner for the club and was the occasional healthy scratch. He scored 24 G's for the Kings in 255 games with them.
When the 2012 playoffs started, he was a healthy scratch; but when Kyle Clifford was lost for the post-season after an illegal hit in Game 2 of the first round series against Vancouver, Richardson was called back into action. He stayed on the ice until Simon Gagne, a significant FA signing during the off-season, recovered from his 5+ month concussion enough to replace Richardson in Game 3of the Finals.
Richardson scored one goal in that post-season, but what an important goal it was; the GTG in Game 5, the "put away" game in Vancouver in the 3rd period (link).
Richardson signed through the end of the 2013 season. He had been on the standard "2 way" 3 year entry level deal when he came into the league in Colorado. He then signed a league minimum, but one way two year deal, for L.A. (AAV around 0.575m). After that, he signed several of one year or two year, one way, deals with the Kings with an AAV from 0.900m to 1.175mil.
In other words, he has not earned the really big bucks like others in the league.
So, when he became a UFA for the first time after 2013 season, I was glad to see him get another 2 x 1.15 deal this time with Vancouver. He would get more playing time.
But, I had not collected his signature. I could not arrange with the Canucks, Kings, or anybody else, the opportunity to meet him when Vancouver came to play in L.A. or Anaheim.
This year, he signed a 3 x 2.083 deal with the Arizona Coyotes. Again, I was very happy for Mr. Richardson as his salary nearly doubled.
However, I did not have his signature. Again, I struck out when the Coyotes came to town for the two meetings in Staples.
So, this required some "outside the box" thinking to say the least.
Well, the Coyotes sell season seats, and I know they are available, and I know they are cheap. Plus, I go to Phoenix a lot on business anyway.
Furthermore, I suspect they have some sort of event for the players to interact with the fans. I know the CBA says the players have to make themselves available for at least one of these events a year.
So, I called up the Coyotes and told them my story- L.A. season seat holder, guitar and all. They were game.
They confirmed to me that they were going to have an event, but the date had not been confirmed.
I told them to call me when it was confirmed. Then I would buy a single season seat to be able to attend if it fit my schedule.
I got the call, and lo and behold, January 19th was the date, and it fit for me.
The NHL evidently has a rule that to be considered a full season seat holder, you have to buy for at least 25 games. This Meet the Players event was only for full Coyote season seat holders.
I bought a single season seat in the first row of the upper deck. It's good seat as I've sat in it.
I used some of my Southwest points, got a plane fare, then rented a car. On the morning of the 19th, I packed up my guitar and flew out to Phoenix for the event.
I obviously went "incognito" to the event. I did not want to upset any of the fans or the players by wearing Kings colors.
I had purchased a soft guitar case aka a "gig bag" before I left. I slung that guitar over my trenchcoat shoulders and went through both airports.
Ah yes, the heads turned. The days from youth re-invigorated, the "rock star" personna comes to life- even though I was a pure poser!
The event was held at the Gila River Arena which is where the Coyotes play. It's in Glendale, and it's out in the middle of nowhere. The event was scheduled to start at 6PM. I got there at 4:30ish. There were probably 200 people in line ahead of me already.
By the time they let us in, the line was halfway around the outside of the arena. I had been told that Brad Richardson (along with the rest of the club) was supposed to be there, but that is no guarantee. There are excused absences for illnesses and family emergencies.
The way these events are setup (at least in L.A. and now Arizona) is along the following lines, or a variant thereof.......
Players sit at a long table in groups of 5-6.
You go through the line and are allowed to have a single item signed. You may not pose for pictures, but you may take pictures while the signing is going on.
The Coyotes gave all of us a punch card with the players and the lines. As you were going through the line, your card got punched for that group, thus safeguarding that you couldn't go through again.
However, the Coyotes had one small variant to this procedure. Captain Shane Doan had his own table. Mr. Doan has been with Coyotes since they were the Winnipeg Jets. His entire 20 year career has been spent playing for this franchise.
Only the first 350 in line had the chance to meet him, and you had to be issued a wristband. Since I was relatively early in line, I figured that I would meet the gentleman. I got a wristband.
I finished off my evening by meeting Shane Doan. Just like with the Kings captain, Dustin Brown, you can immediately see why he's the captain of his club. In the other lines, you had maybe 30 seconds with each player. Shane Doan would talk with you for a couple of minutes.
To be honest, I don't know if the high point of my trip was meeting Mr. Doan or Mr. Richardson, Mr. Doan seems to be that decent of a guy.
But I came to see Mr. Richardson, not Mr. Doan. After all, I was on a quest.
I figured I'd better get into his line FIRST. It was going to be a high demand line b/c the Coyotes great young rookie, Max Domi, was also in that line.
Now, I knew at some point, I was going to have to drop my cover and show the Kings guitar. To be honest, Phoenix hates the city of Los Angeles on so many levels- especially sports. Fans are still upset about how the 2012 Stanley Cup playoffs ended for example (and I was there in that arena going crazy after that one cheering for the Kings- me and another roughly 8K fans).
I had to show the guitar to clear security getting into the arena. The security actually thought it was cool.
Well, some other things happened that were pretty cool also.
I was probably the only person there that was not in Coyotes garb in some way, shape, or form, but I had that guitar case.
When I was in line, people started asking about the guitar. So, I told them the story and showed them the guitar. Wow, everybody thought it was very cool- including the story. There's even some closet Kings fans in that building!
Even the Coyotes staff knew about me. Some of the staff at the arena would stop me as I was walking around the arena. "Hey, you must be the L.A. guitar guy!" I showed them the guitar and they were also impressed.
As I was going through the line for Brad, I skipped other players saying "I am giving you a brief break."
Then I got to Brad, showed him the guitar, told him the story. Like everybody who has signed this guitar he said (to the effect), "that is very cool".
Provenance, you want provenance (out of focus no less!)
Oh, Mr. Richardson is #12 with the Coyotes, but he was #15 with the Kings. Look at the signature.
Brad Richardson
Still room for two more on the back. Two are left.........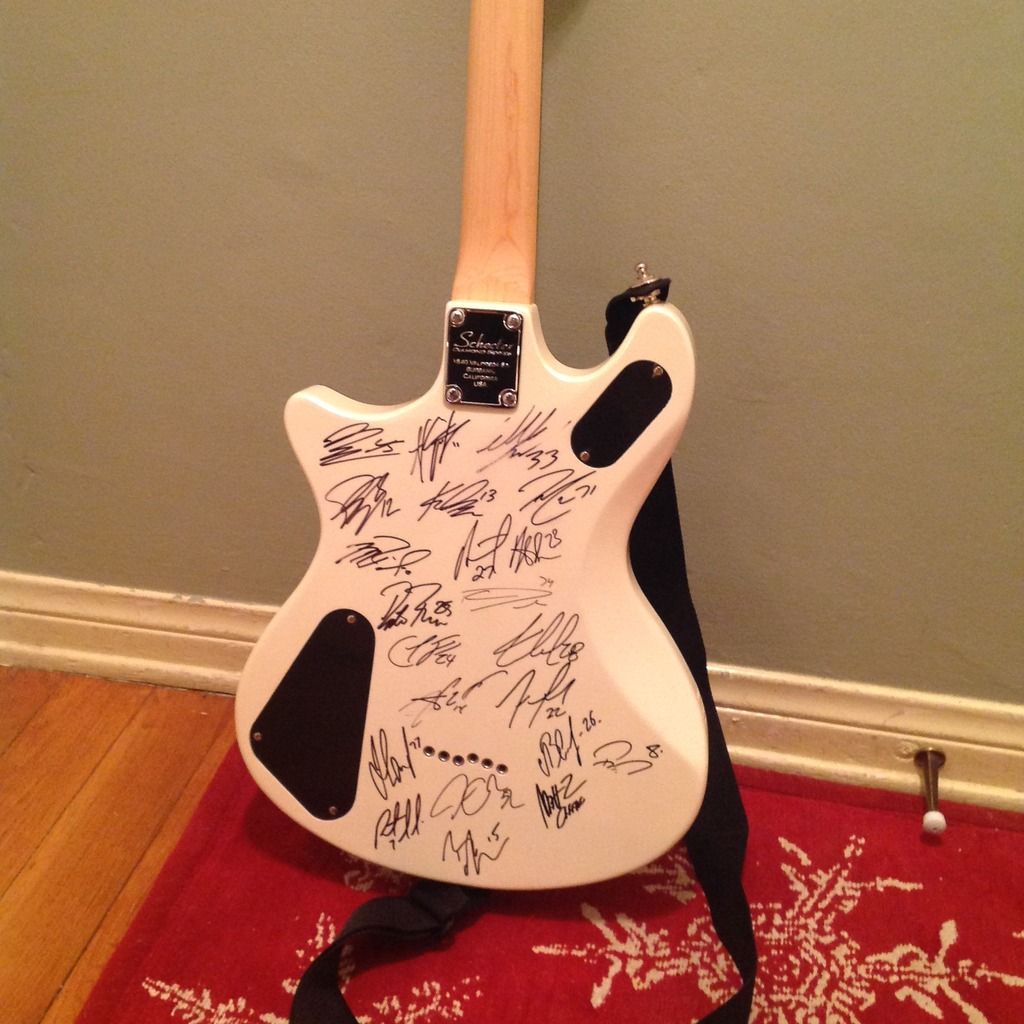 These last two are going to be even harder. Drewiske is with the Lehigh Valley Phantoms of the AHL. Westgarth is retired and living, I suspect, in North Carolina.
But don't count Ark, the Bounty Hunter out.
To be continued...... obviously....... at some point in the future.