It's been a little over a year, 1/19/16 as a matter of fact, so the quest continues......
Many of you know the drill.
For those that don't, check out the beginning of Ark, The Bounty Hunter (link).
Other related blogs (most recent first)
Ark, The Bounty Hunter is the Brad Richardson Saga (link)
The First 7- Meet the Kings (intention in blog, sigs in comments) (link)
Ark the Bounty Hunter tells the story of
a. my Los Angeles Kings guitar
b. as a reward for being a good season seat holder which is now at 35 years incidentally
(I think there were only 20 of this style in the first year (2008-09) that I have)
c. and how I would eventually determine it's calling (when the Kings won their first Stanley Cup in June 2012).
My quest?
To present the guitar to each of the 24 players whose names are on the Stanley Cup for that year, tell the story, and have them sign.
I started collecting photo provenance after signature 7 btw.
Where am I now?
Jonathan Bernier
Dustin Brown Captain*
Jeff Carter*
Kyle Clifford
Drew Doughty*
Davis Drewiske
Colin Fraser*
Simon Gagne
Matt Greene*
Dwight King*
Anze Kopitar*
Trevor Lewis*
Alec Martinez*
Willie Mitchell
Jordan Nolan*
Dustin Penner
Jonathan Quick*
Mike Richards
Brad Richardson*
Rob Scuderi*
Jarret Stoll*
Slava Voynov*
Kevin Westgarth
Justin Williams*
*Denotes photographic provenance
22 down, 2 to go......... until today
Here's that "bad boy", front and back with 22 sigs.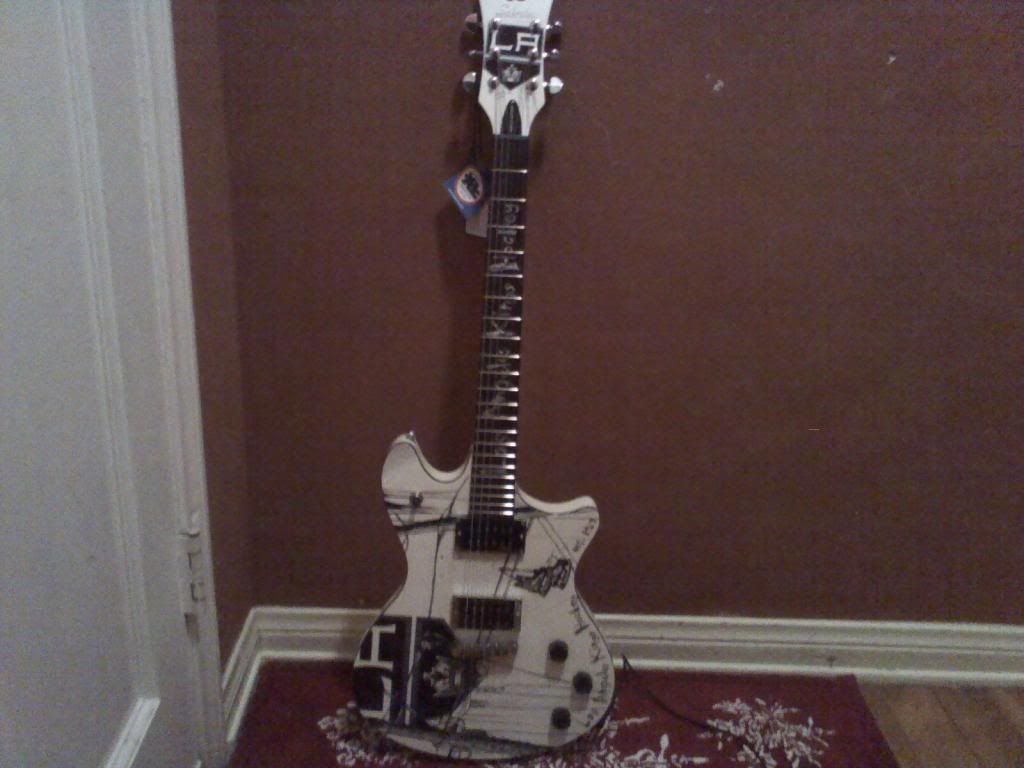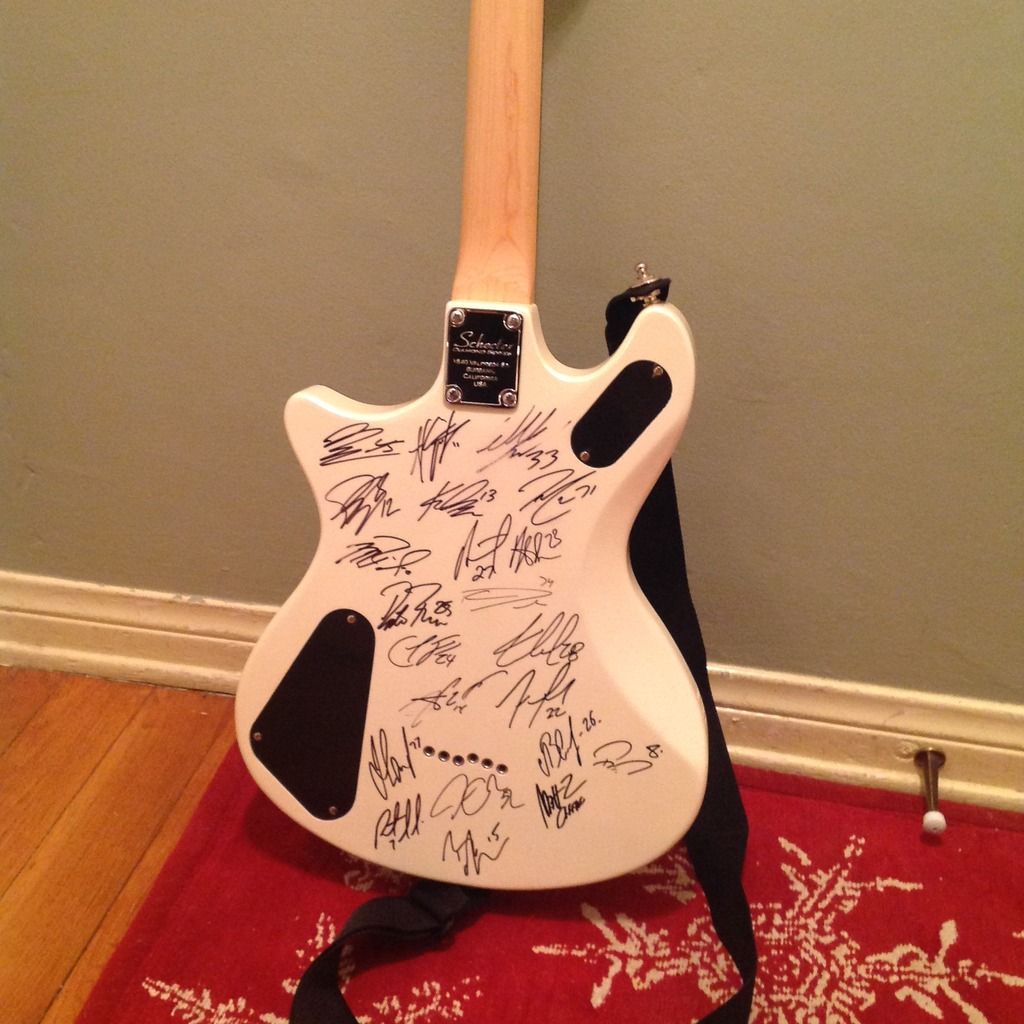 This quest started now 4.5 years ago. While I am in my 60's and am counting on still having "a lot of time on the clock", and everybody else is at least 21.5 years younger than me, this is the kind of thing you need to stay on top of.
When I first started this journey, I figured I had better get players ASAP who would not likely be with the Kings long. I knew I wouldn't be able to get them all at once, but I did get a substantial # of them in early 2013.....
Dustin Penner- now retired, left the Kings as UFA at the end of the 2013 season
Simon Gagne- traded during the 2013 season, now retired
Jonathan Bernier- traded at the end of the 2013 season
I also got some luck to make things easier....
Andrei Loktionov- his name is not on the Cup, but he has a ring and got a day with the Cup. As he did not play in 41 games in the regular season (he played in 39), he was not entitled to get his name on the Cup. The Kings petitioned for 3 players to get their name on and he was denied. The other two were accepted (more later).
He was traded during the 2013 season and virtually vanished from the NHL. He is back playing at home in Russia!
Oh, Slava Voynov? I got somewhat lucky there. Picked him up in Feb 2014.
Colin Fraser- got very fortunate, picked him up in Feb 2014, seven days before he was placed on waivers!
However, I could not pick up everybody. One of the players that was still "at large" was Kevin Westgarth. I had one opportunity to get his sig at Meet the Kings in January 2013 but ran out of time. Sure enough, the next day, he was traded to the Carolina Hurricanes.
So, here the saga continues.....
"Westy" as he was called was undrafted but got a spot on the Kings club in the Terry Murray days as an enforcer. I don't know if you know the saga of John Scott, but "goon" is an inappropriate term for most of these players.
Did you know that Westgarth graduated from Princeton?
Did you know that Westgarth is the son-in-law of former Pittsburgh Steeler coach Bill Cowher?
Did you know that Westgarth was the Kings NHLPA rep during the CBA/lockout negotiations of 2012?
With that being said, Westy's NHL career lasted from 2007 to 2014. (He finished with the Calgary Flames where he scored a career high 4 goals in 36 games.) It's probably safe to say his career lasted this long b/c of his ability to fight.
He broke David Koci's jaw in a pre-season scrap when he was with the Kings. They fought several times. He went toe-to-toe with John Scott himself. Got bloodied up real good but applauded his team as he skated off the ice. So, what video clip do I show?
His only goal with the Kings? Nope, can't find it
Him skating the Cup? Nope, can't find it
You cannot escape your destiny, Luke!
Oh, wait, wrong genre.
Westy finished his career in 2015 in the Elite Hockey League in the UK.
Yep, it's a fighting video (link), but I want to propound on this after you view the video.
OK. You want to understand maybe why America won against the Brits in 1776-83?
Westgarth and #57 collide on the ice.
Both players look at each other and size each other up.
Westy charges #57. Who quickly backs off after getting punched.
Another Cardiff player, #17 goes after Westgarth
#17 gets hit once and backs off
Then #74 "engages with Westgarth and at this point both players are willing combatants"
Westy hits this guy once and #74 turtles. "He is no longer a willing combatant." Westgarth continues to hit the player in the back of the head. #74 is evidently injured.
So, Westgarth gets suspended for a one game.
Defense rests your honor.
Kevin Westgarth, I liked you as a King before and after the Cup. You did what was asked of you. You covered your teammates' backs and did not back down. You can be in my foxhole anytime.
Now, I've had to think outside the box to get some of these sigs. Mr. Westgarth was no exception.
I was wondering how I was going to have a chance to get his signature. He lives on the East Coast. Hmm. I go to Virginia once or twice a year, maybe I could travel some more, provided I could contact him, and hope he would meet me? Nope too much of a long shot, plus I have to lug my guitar around.
Then, earlier this year, I read somewhere or saw a quote that Westy was now working for the league office in NYC. Hmmmmm..........
One of my season seat buyers, used to be a trainer for NHL players and told me he knows Westy and can contact him via texting. Hmmmmm.......
The All-Star Game will be in L.A. this year. Hmmmmm.......
I wonder if Westgarth is traveling out to L.A. for the game?
I contact my "trainer" buddy probably a month before the game. Sure enough, I am told that Mr. Westgarth will be at the festivities.
I then remind my buddy about a week before the festivities and ask if Mr. Westgarth is willing to meet up.
I've been through this drill before, and I understand the precautionary measures. The player is a celebrity and may not want to do this for a number of understandable reasons. Furthermore, there are demands on his time.
I send a text out to my buddy at 11AM on Friday 1/27 (one of MANY for the day) saying I am available.
My buddy tells me go to the hotel where KW is staying (the JW Marriott by the Staples Center at LA Live) and hang out there in the lobby.
OK. Test of faith here. Do I invest what could be 7-8 hours here? I may come up empty. Furthermore, parking for these events is around $25- more than a day pass to Fan Fest!
I find a parking lot west of the 110, but only 3 blocks away for $10. I camp out in my car after texting my buddy and wait. And wait.
But not too long. At 2:45, I'm told he will be there at 3:15ish. Then 3:30-3:45ish.
I walk over there with my "axe" in the gig bag.
This is not the first time I've used the gig bag, and I got the same reaction I did before. People looking at me wondering what is in the bag- a guitar, but what does it look like?
It feels good!
Now, what I had forgotten about was this.....
This is the NHL All-Star Game. Furthermore, the NHL Top 100 event is going to take place about 150 feet from the hotel (a 5-star place) in another 3 hrs!
I go into the lobby and there are a LOT of security people (in suits of course). Nobody hassled me.
A lot of fans, looking for autos. Lots of kids.
Oh, hockey players. I think I recognized in the lobby Seth Jones, PK Subban, Ryan Kesler, Frans Nielsen, Jon Tavares, Kyle Okposo, Nikita Kucherov, Ryan McDonagh, Justin Faulk, Cam Fowler, Carey Price, Wayne Simmonds. These guys are about my size...... uh, they are chiseled!
Oh, then all of the girlfriends, wives, groupies. Yea, they are as good looking as you might think.
Oh, then some of the living 100 greatest players who are retired. I did not recognize any of these guys, but I asked myself "what are all of these older, chiseled guys doing here?"
Commissioner Bettman
Willie O'Ree (who got more respect than anybody else I saw, except maybe Bettman)
Virtually anybody from the hockey media you would know on TV except the NBCSN crew. Bonus: Michael Wilborn
However, I didn't care about any of these guys today. I was here for one reason and one reason only.
Sure enough, about 3:30ish I see Kevin Westgarth walking through the lobby apparently looking for someone.
You can't waste these opportunities, I had to move quickly as I didn't know how long he would be there.
I came up behind him saying "Mr. Westgarth".
He turned around and immediately knew who I was.
He shook my hand and was fully engaged.
I told him my story as King season seat holder- namely I've been a season seat longer than he's been alive!
I told him the story of the guitar.
He immediately wanted to see it!
Then I told him the story I've told everybody else:
"Only 24 people have earned the right to sign this guitar. Wayne Gretzky, Luc Robitaille, Bobby Orr, etc. have not earned this right, but you have."
Every time I tell this story, the players seemed genuinely moved. No, not to tears, but they seem to understand that it is a privilege for them to sign the guitar.
I think it's for 2 reasons-
1. it is something that only a team could accomplish, to be able to sign that guitar, a championship team
2. the piece is unique and perfectly fitting for the occasion
Mr. Westgarth conveyed that same sense to me.
We had some small talk about his father-in-law and the Kings.
Oh, he is bigger than me!
My only regret was that when I told him I had 22 of the 24, he asked who was left. I told him the two who got the league variances to sign. Mr. Westgarth, I apologize. I did not mean to be disrespectful, but just wanted to describe how it was interesting that the first 22 players were the ones who did not need a variance. Mr. Westgarth did not let on if he had been offended.
You want provenance? Here's your out of focus provenance.
And the sig!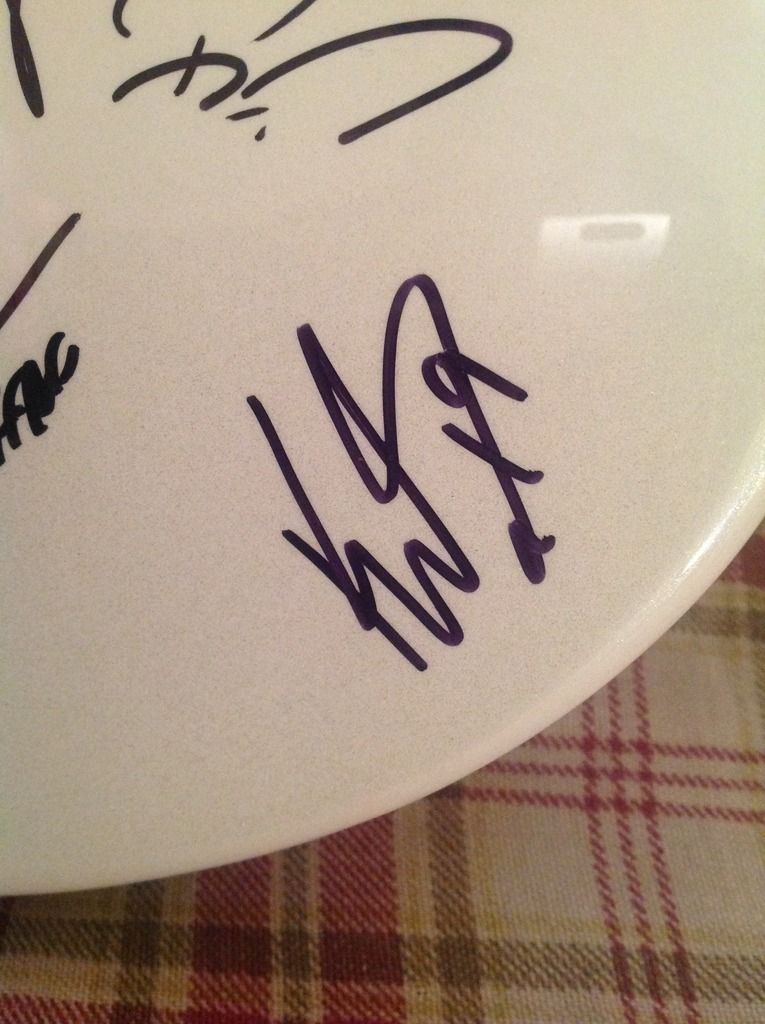 Kevin Westgarth
And then there was one...........
WANTED: Davis Drewiske!
If you have seen this man, notify Ark_Razor below in the comments!