For nearly 4-1/2 years, I had been dogged in my determination. My quest technically began in 6/11/12, so really it was close to 5 years.
One by one, I hunted them down....... 24, 23, 22, 21, 20, 19, 18...... (link 1st 7 in comments)
(link) Over the years I hunted them down.......... 17, 16, 15, 14, 13, 12........
Various events- sometimes coming up empty........ 11, 10, 9, 8, 7, 6, 5.........
Until, those were of no more use to me..........
and then there were 4........
Some real thinking outside the box was going to be necessary for those 4........
(link) Finally, only 1........ 1 remained........
Jonathan Bernier
Dustin Brown Captain*
Jeff Carter*
Kyle Clifford
Drew Doughty*
Davis Drewiske
Colin Fraser*
Simon Gagne
Matt Greene*
Dwight King*
Anze Kopitar*
Trevor Lewis*
Alec Martinez*
Willie Mitchell
Jordan Nolan*
Dustin Penner
Jonathan Quick*
Mike Richards
Brad Richardson*
Rob Scuderi*
Jarret Stoll*
Slava Voynov*
Kevin Westgarth*
Justin Williams*
*Denotes photographic provenance
I had procured 23 of the 24 L.A. Kings players whose name was on the Stanley Cup in their first championship. I had presented the guitar to each of them personally and told the saga and the story. (Many of you already know it).
Wayne Gretzky may not sign this guitar
Luc Robitaille may not sign this guitar
Bobby Orr may not sign this guitar
Gordie Howe could not have signed this guitar
but YOU can with the other 23 of your teammates.
So, this is the story of my attempts at #24. However, there was a sense of urgency associated with this one, which you will see soon enough.
Davis Drewiske...... the last of the Mohicans so to speak.
Who? You may say? Exactly.
Davis Drewiske was born in November 1984 in Wisconsin and went to UW to play for the Badgers- after a year in the USHL. (My dad went there and graduated in 1948, hence I already knew I would like the guy!) He was on the NCAA Championship team of 2006.
He was undrafted coming out of college, but the Kings signed him as a FA after his graduation from Wisky and cup of coffee with then AHL affiliate of the Kings, Manchester, April 2008.
He was up with the big club by the end of the next season, where he pretty much stuck with them until he was traded by the Kings to Montreal near the end of the 2013 season. MTL signed him to a 2 year, one way contract (translation: he's guaranteed several hundred $K per year). He was sent to their AHL affiliate. After that he was signed on a partial two way deal with the Flyers where he played the entire season with their AHL Lehigh Valley Phantoms. He retired at the end of the 2016 season.
He did not make the huge $$$ in terms of hockey players, but he had several years of league minimum type deals, which were several hundred K a year.
Primarily known as a "stay at home" defensemen, the original DD, had 5 goals in his entire career. Also known as somewhat of an enforcer, I liked his game for us when we stunk. I was glad to see him hang around long enough to see the fruits of that labor.
In the 2012 season, he was primarily our 7th defenseman. We used only 6 d-men for the entire cup run, so he didn't play in the post-season. However, he was on the roster for the entire season so the league granted a variance and allowed his name to be on the Cup. Well deserved!
Here is his last goal as a King, from a 2013 road beatdown on our then whipping boys.... the St. Louis Blues.
http://www.youtube.com/watch?v=EIvAkIWboWs

OK. So much for the background. How do I track this guy down?
Well, I had a couple of leads, but they didn't play out. However, all hail social media.... all hail private messages on social media!
I hailed Mr. Drewiske privately on February 22, 2017. I did get a response from him a couple of weeks indicating his ready willingness to sign my guitar!
Problem, he was in Minnesota.
Then, I let the ball drop b/c of some business commitments. I restarted this backup again. It took a while, but he corresponded with his continued willingness. After about 3 weeks of logistics, I flew to Minneapolis to meet him at the Hilton Hotel MPLS airport on 5/22. He had tried to come to LA, but he was in the process of taking a new job (in a field that I am VERY familiar with).
Sure enough, at the appointed time, Mr. Drewiske came into the lobby.
We had some small talk. I spoke with him about his new job (which I think he will be well suited for). He is still in contact with many of those Kings players. Oh, he and his longtime wife were expecting their first child, I believe in July!
Then, he did the deed.
Here is the provenance.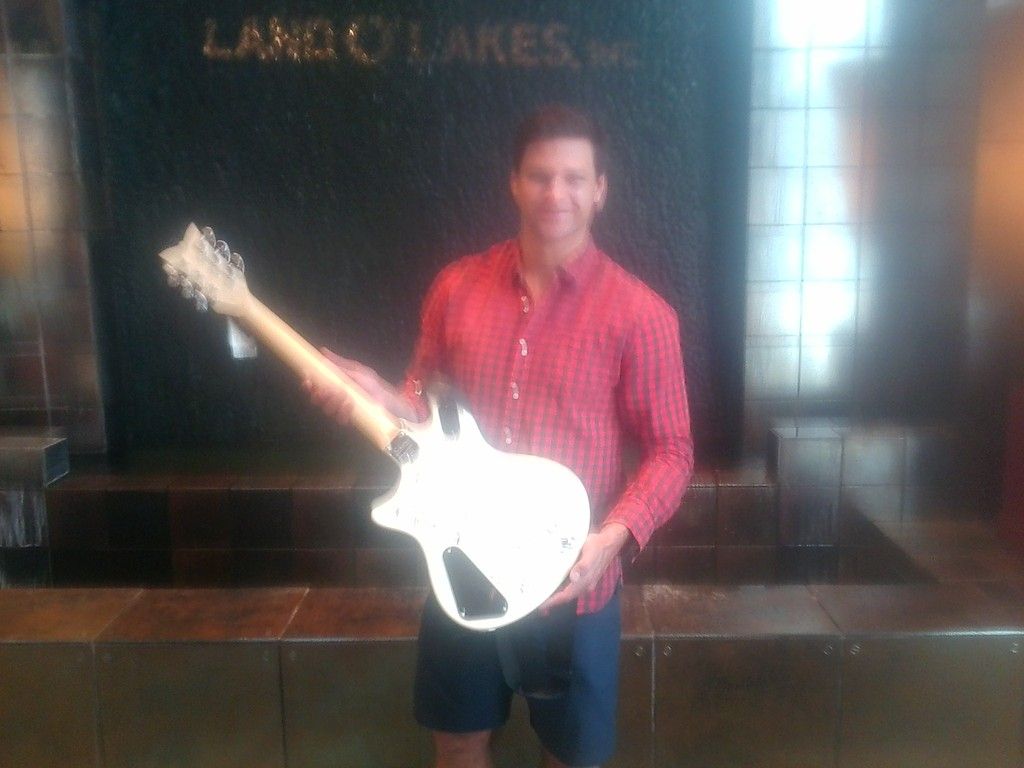 When I travelled back through the MPLS airport, I ran into another Kings season seat holder! I showed him the guitar and got a couple of better pics (I have a flip phone, he did not!).'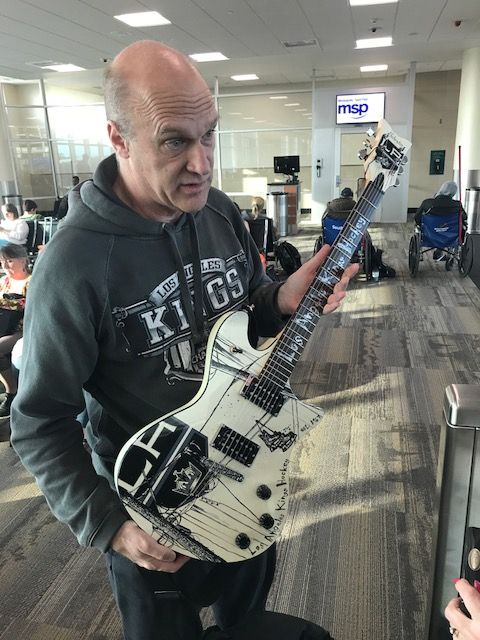 Count em! 24!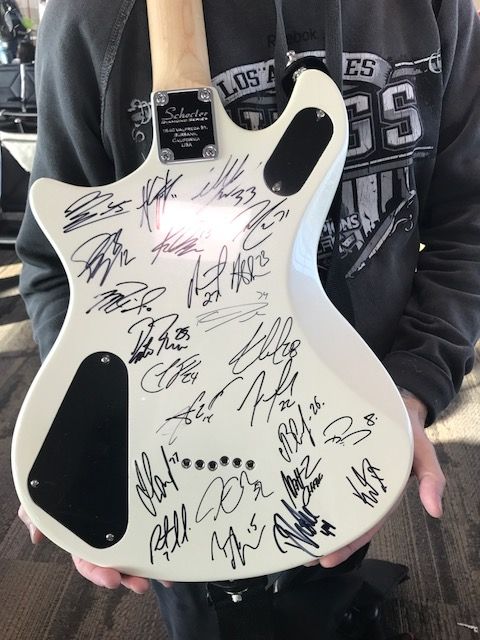 MISSION ACCOMPLISHED...........
Davis Drewiske*
So, why the uncertain ending?
Many of you remember the great blogger gymrome from the old site. I've never met him, but he is a FB friend of mine (one of only 56). I have been hoping to meet him someday. Really, the guy is an Ohio State fan, and he's a cool guy!
Well, he has been a big encourager to me in this whole process. He has believed that I would get this done and has told me to tell others about this quest.
Alas, gymrome has been ill. I have not had direct contact with him for a while, but at least he has made a mild comeback on FB acknowledging posts.
The reason that this is an uncertain end is b/c gymrome needs to see this guitar in person and hold it.
A lot of that is out of my control.
gym, if you are listening, I am ready. Tell me where you are and we will make it happen!